School will release tomorrow, May 11th, at 1pm. Elementary car line will begin at 12:40 and buses will leave at 1:05. Thank you and we hope everyone has a great summer!

On the last day of school, Thursday, May 11th, School will release at 1pm. Elementary car line will begin at 12:40 and buses will leave at 1:05. Thank you.

Family Cultural Night The spring Family Cultural Night will be tomorrow night, May 2, 2023. It will be set up in the Doyle Greteman Media Center lobby by the elementary computer lab. Make and take crafts will be from 5pm - 7:30pm. Presented by the JOM/Title VI Indian programs

Today is early release at 2:35. Elementary car line will begin at 2:15 and buses will leave at 2:40. Have a wonderful weekend and a great Spring Break!

Tomorrow, March 9th, Lindsay will tip off at 9am against Millwood in the first round of the state tournament at the OKC Fairgrounds. You may purchase a ticket online through:
https://www.etix.com/ticket/e/1033109/2023-ossaa-basketball-oklahoma-city-jim-norick-arena-oklahoma-state-fair-park
. Online ticket sales will be accepted at any entrance. If you choose to purchase a ticket with cash at the gate you must enter through the east gate. Doors will open at 7:30am with Lindsay fans assigned to sit behind the scorers table. Check the Schools Facebook page for ticket pricing. Thank you and Go Leopards!

Everyone is so excited about the boys qualifying for the state basketball tournament! Many of our staff and students have supported our team all year and want to continue. Unfortunately, we play at 9am Thursday. I have decided to cancel school Thursday to allow everyone to attend! See you at the ballgame!

Saturday, February 18th, Lindsay will host Kingston in the Leopard Arena for District Playoffs. The girls will tip-off at 6pm with the boys to follow at 730pm. Tickets will be available for purchase on gofan.co for $8.35 a piece OR $10 at the gate.

We would like to send out a reminder that we will not be accepting any deliveries at Lindsay Schools tomorrow, February 14th. Thank you for your understanding.

There will be no saving seats at any Lindsay basketball games. If you have already placed items in seats today those items can be picked up at the concession stand tonight. Seating at basketball games is first come first serve. Thank you.

Lindsay patrons, this whole school closing thing has become a guessing game that has proven I am not very good at! As of this time, we will have school tomorrow. However, I will be up early checking travel conditions and will only make an announcement if school closure becomes necessary.

Lindsay Public Schools will be closed Wednesday, February 1st.

Lindsay Public Schools will let out early today. Elementary Car line will begin at 11:45 buses will leave at 12:00. Middle and High School will be let out at 11:25 at their regular lunch hour. We will not have school Tuesday January 31st.

Update on High School Basketball for Monday, January 30th-There will be no JV games with Davis and the girls varsity basketball game has been moved up to 5:00. Homecoming will be at halftime of the boys game.

Due to potential bad weather, Monday's Junior High Basketball games against Pauls Valley have been cancelled, instead JV and Varsity will be playing that night beginning with JV girls at 4:30. Homecoming will be at halftime of the boys varsity game. There will be no games on Tuesday the 31st.

Upon further review, I believe another snow day to be in order. Lindsay Public Schools will be closed on Wednesday, January 25th. . Sorry for any inconvenience this may cause!

Lindsay Public Schools will resume school tomorrow, Wednesday, January 25th.

The High School Basketball Cake Auction and game against Purcell has been rescheduled for February 13th.

We, at Lindsay Public Schools, endeavor to err on the side of caution. Therefore, school will be canceled tomorrow, January 24th, and we will observe a traditional snow day. The High School basketball game and cake auction will be rescheduled.
First Semester Test Schedule LHS/LMS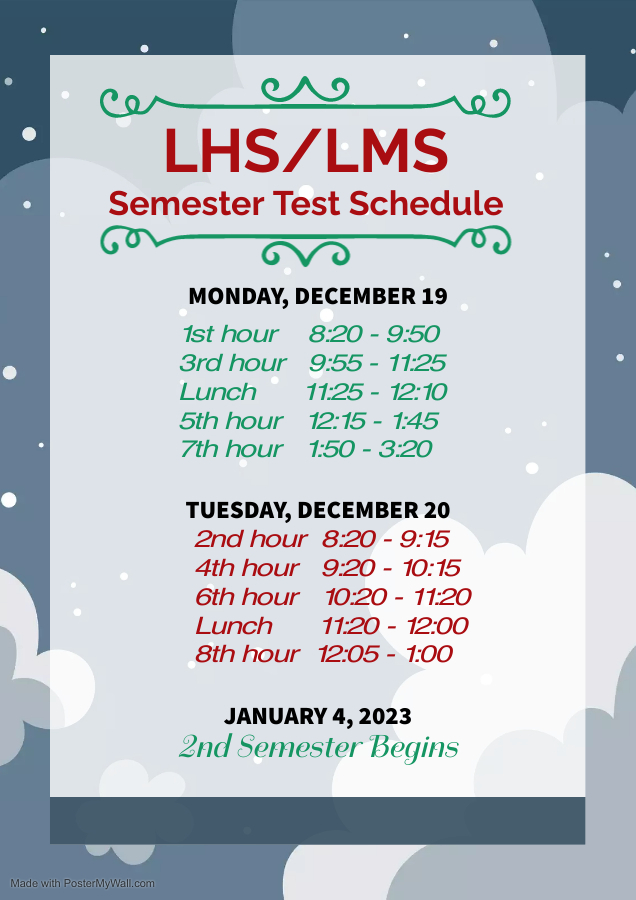 We will release school at 1:00 p.m. on Tuesday, December 20th. Elementary car line will begin at 12:45 pm and buses will leave at 1:05 pm. Merry Christmas!